One of the primary concerns of my job as head chef (and I have many in the kitchen) is keeping an eye on how much everything costs to produce. In fact, after ensuring that the food tastes good and that the quality is consistent, food-cost occupies the majority of my attention. As a result, all good chefs are experts in the fluctuating costs of fruits and vegetables. I watch the farm report on public-access television, because the price of livestock directly affects me. I even keep an eye on the national weather patterns, as a week of rain in Queensland or a few days of heat in Victoria could mean spinach prices will skyrocket, or half my herbs will be unavailable.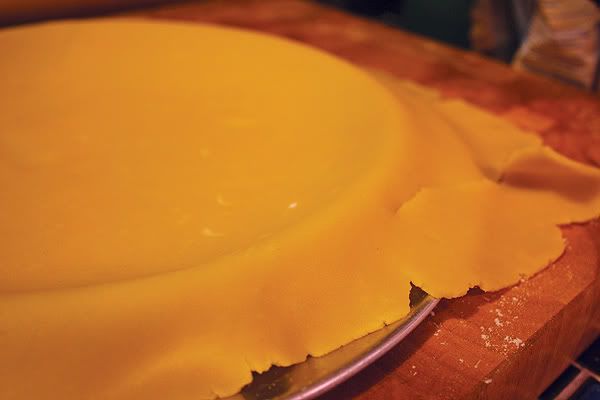 All this focus on price and availability, as is especially required in a bistro, is typically on what things are cheap and most available. I spend a great deal of time agonizing over the price of asparagus, lamenting the price of lamb, quarreling over the price of quail. I pinch and skimp and recycle and stretch so often that I sometimes forget that premium ingredients exist at all. What would it be like, I wonder, to order a couple dozen lamb racks? White asparagus? Truffles? I love cooking all of these things, but I cannot imagine cooking them in my restaurant: I just can't justify the price.

This frugality, wanted or not, spills over into my home life. I often find myself standing in the supermarket isles, frozen with indecision, incapable of deciding which cuts of meat represents real value. Are carrots really worth $4/k? Mangoes seem reasonable, given the time of year. What's the farm report say the harvest has been like this season?

As a result, I forget, from time to time, that it is ok to splash out and buy nice things, just for the hell of it. I have to tell myself that, yes, $20/kilo for honey dates is expensive, but my boys love them so. Broccoli is three times the price it was last week, but it would go so well with the roast dinner I've planned. Lobster has gone to how much? Ok... I guess it's a treat.

This sort of thinking doesn't do you much good in the professional kitchen; no matter how good a product is, the price determines if I can use it or not. For those of us trying to keep a lid on the spending at home, similar thinking is useful.

Don't let it, however, keep you from going a little crazy with the shopping from time to time; you deserve a treat.




This is exactly what you have to to if you want to make this pie. Splash out and buy a lot of raspberries, which are expensive as hell, even when they are in season.

Raspberry Cream Tart

This rich little tart speaks of summer luxury. The filling is made by mixing crème fraîche, sugar, and eggs, and then pouring the mixture over a tart shell filled with raspberries. When the tart has baked and formed a caramelized crust, fresh raspberries are dropped in before the crust has a chance to cool; embedding themselves in the tart like tiny ships locked in a frozen sea.

4 cups raspberries
200ml crème fraîche
200gm sugar
3 egg yolks
1 tart shell, blind-baked and trimmed (below)

Preheat your oven to 160ºC. Fill the tart shell will 3 cups of raspberries, reserving one cup of the best for the topping. Mix together in a bowl the crème fraîche, sugar, and egg yolks. Pour this mixture over the berries in the tart shell. Bake for 1 hour, or until the tart is bubbly, slightly browned, and set in the middle. A set tart will giggle as one when gently shaken, an under-cooked tart will giggle in separate parts. You'll know what I mean when you see it.

Remove the cooked tart from the oven and immediately drop the reserved berries in so that they are at least half submerged. Cool to room temperature before serving with a bit of cream or ice cream. Refrigerate any leftovers.

Tart Shell

For the tart you'll one piece of special equipment: a fine tart ring. It's a little ring of metal, about 24cm wide, and only 2cm tall, with no bottom and perfectly vertical sides. The idea is that you bake on a perfectly flat tray and when the tart is trimmed, filled, and cooked, the ring lifts off to reveal neat, straight little sides.

200g flour
135g cold butter
pinch salt
30ml cold water

In a food processor, combine the flour, salt, and butter. Pulse until the mixture resembles fine breadcrumbs. With the processor running, add the water a bit at a time just until the pastry pulls together and forms a ball; you may not use all of the water. Stop the processor immediately to avoid over-mixing.

Remove the pastry dough from the processor and shape it into a ball. Flatten this into a disk about 2cm thick, wrap in cling film and refrigerate for at least half an hour.

Line a flat tray with baking paper and place the pastry ring on top.

Remove the pastry from the refrigerator and roll it out on a floured board until it is about ¼cm thick. Starting at one end, roll the pastry onto the rolling pin like a scroll, move it over the pastry ring, and unroll it. Using a small piece of pastry dough (torn from the overhang gently press the rolled pastry into the ring, lifting the edges up as you press down so that you stretch the rolled pastry as little as possible. Leave the over hanging pastry intact., reserving a golfball-sized piece for later. Refrigerate at least half an hour.

Heat your oven to 200ºC. Line the inside of your tart shell with baking paper or foil and fill with rice, beans, or pie weights. Bake for 20 minutes, remove from oven and remove the weights. If the tart shell has cracked anywhere, use the pastry you reserved earlier to make repairs. Bake an additional 5 minutes. Allow the shell to cool.

Using a serrated knife, trim the overhanging crust from the tart so that it is level with the height of the ring. This step is tricky, and you want to be sure not to break your tart crust. To do this, make sure that you keep the blade perpendicular to the tart ring and take care not to saw back and forth – rather pull the knife towards you with each stroke so that the tart shell is pulled up against the side of the ring, preventing breakage. Take your time and make small slow strokes with the blade. When you are finished, you should have a tart shell which is exactly the height of the ring with no pastry actually hanging over the edge of the ring, as you want to be able to lift the ring off after your tart is baked.