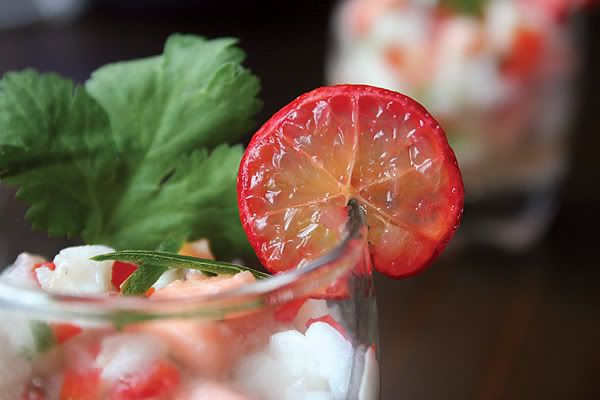 One of the things I didn't count on, when I migrated to Australia, was a language barrier. You might expect a few lexicographical misunderstandings; my sweater is now a jumper. I can deal with that. And there is the slang. An Australians' love of a good turn of phrase is second only to to his love of baffling foreigners with those turns of phrase. My introduction to the local lingo, a mash-up of rhyming cockney slang and local colloquialisms, was something of a trial by fire. I didn't understand much of what was going on around me in my first few weeks in the country, and many jokes, I have no doubt, were had at my expense. Most difficult for me, however, was my discovery that the language barrier extended into the kitchen.

I've often boasted about the portability of my chosen profession. Cookery, by definition, is a set of skills that are the same, more or less, world-wide. French is, more or less, the language of professional cookery. That's not to say we all speak French, but we use a lot of French words to communicate about cooking methods and what not. Technically, you don't need to understand any of the local language to get by in a kitchen: I once worked with a Japanese chef who spoke little more than conversational English. All he required at work is that you give him the name of a dish, show him how to prepare it, and then write the docket with the name and the number required. His plates were impeccable. I didn't expect the least bit of trouble when moving from one English-speaking country to another.

Was I wrong. I spent my first six months in Oz trying to forget and then re-learn an entire vocabulary. Thankfully, most of the methods have the same name; French words are French words in any country. However, the equipment is different, a ricer is a mouli, hotel pans are gastros. Foods presented the biggest challenge. Fries are chips, chips are crisps, ketchup is tomato sauce, 7-Up is lemonade, lemonade is also lemonade (still can't figure that one out), shallots are eshallots (though, just to add to the confusion, that's only the case in one state in Australia) Idaho potatoes are burbanks, cilantro is coriander, every fish I know has a new name (monkfish is stargazer, rouget is red mullet) pickles are a food group, and pudding is a blanket term for dessert. Add to all of this that I had to learn to think, on the fly, in metric measurements, and I must have looked to my fellow cooks as if I didn't know what I was doing at all.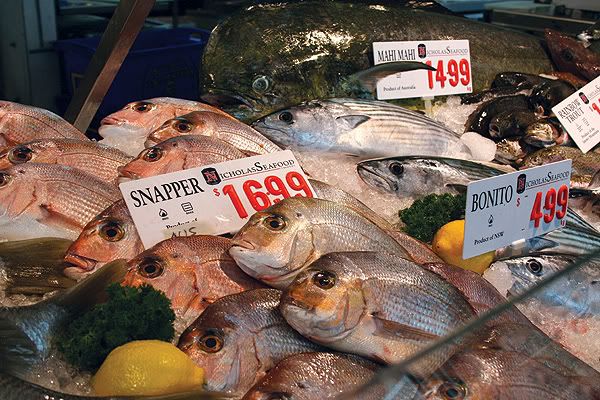 Now, nearly seven years on, the confusion works in reverse. I've been here just long enough to wonder if I should be calling it a Spanish onion or a red onion, powdered sugar or icing sugar, and I can't even remember what some tools (that wooden-handled, slotted spatula?) are called in the States, I just know the Aussie names aren't it.

On top of the name confusions is the fact that some ingredients aren't used on both continents. Tomatillos? Parsley root? Not in OZ. Rock oysters? Balmain Bay Bugs? Never heard of them until I migrated.

All of this re-education erodes, a bit, the confidence I have in my general knowledge about food. It's a bit difficult to maintain my belief that I have a better-than-average grounding in the basic techniques, tools, history of cookery, ingredients, how to put them all together to make things which taste good. Still, I feel I know a good deal about the food items available for a chef to utilize and how I might cook with them, by what ever name.




Which is precisely why I am disturbed when, whilst shopping at the local fruit shop, I am presented with a food item I've never even heard of. This was the case the other day when I stood in the citrus section reading and re-reading the hand-written placard "blood limes." Packed in plastic punnets typically reserved for berries were diminutive, elongated, ruby, citrus fruits. I stood for no less than five minutes silently cycling the same mental argument: I don't know what they are, so I don't need them, but I don't know what they are, so I want them, and I don't know how to use them, which makes me want to try them out, but I don't even know what they are.

Eventually, I bought a few. Upon closer inspection it seems that the "blood" color is only skin-deep. As I guessed, based on their small size and elongated shape, these red citrus are a variety of native Australian finger limes, characterized by shape and caviar-like flesh. The interior is nearly pith-free and when cut and squeezed, individual sacs of juice spill out, the majority of which don't burst. It's these little beads and their similarity to caviar which has me thinking about fish.

Citrus and fish are good friends. Great friends, actually. Just flipping through a couple of my cookbooks I come up with dozens of examples: grapefruit beurre blanc, lemon sole, and so on. However, I have something of an aversion to the flavor of cooked citrus – I can only think of a few instances where it is successful. There is something about the sprightly nature of fresh citrus that complements the delicate flavors of fish. It's possible, in fact, to use citrus to "cook" fish, or cure it rather. If you mix fish with enough citrus juice and give it some time, the acid cures the flesh (think pickling). Toss in a few herbs and some other flavorings and you've got ceviche.

Ceviche is a simple cured fish dish made by soaking raw fish in lime juice to cure it. My version below is not much more than that, aside from the addition of blood limes. Regular limes and adjustment of other quantities (chili for example) are fine by me.




Blood Lime Ceviche

I like to serve this as a little appetizer, as pictured, perhaps with a handful of tortilla chips, but not necessarily. The fish is delicious on its own. The quantities below make about 4 shot-glass servings.

One word of warning: While the acid in the juice does "cook" the fish, as in it transforms the proteins in the same way heat would, it does not, in general, kill parasites that might be living in the fish. In other words: only use the freshest fish from suppliers you trust, and only use types of fish you would otherwise eat raw. Here I used snapper and farmed salmon. Basically, if you are going to do this, ask for sashimi quality.

200g fish, sashimi quality, cut into 1 cm dice
2-3 blood limes or regular limes, juice only
½ eshallot, fine dice
½ jalipino, seeded, flesh cut into fine strips
¼ small red capsicum, seeds and pith removed, fine dice
a few capers
handful coriander leaves, fine chop, plus a few for garnish
2 blood limes, pulp, plus slices for garnish. (optional, can be substituted with other citrus, with varying results. Blood oranges, Valencia oranges, or kumquats would all work.)

Soak the the diced fish in enough lime juice to cover liberally for 3-4 hours, until the flesh becomes opaque nearly all the way through. Remove the fish from the juice with a fork and place in a medium bowl, retaining the lime juice used for curing. Mix the remaining ingredients into the fish a bit at a time, including some of the reserved lime juice. Tasting as you go, adjusting quantities, until the ceveche is balanced; it should be fresh, lively, slightly spicy, and quite tangy. Season and serve with a garnish of coriander leaf and a slice of citrus. Oh, I like to finish mine with a bit of vinegary hot sauce.