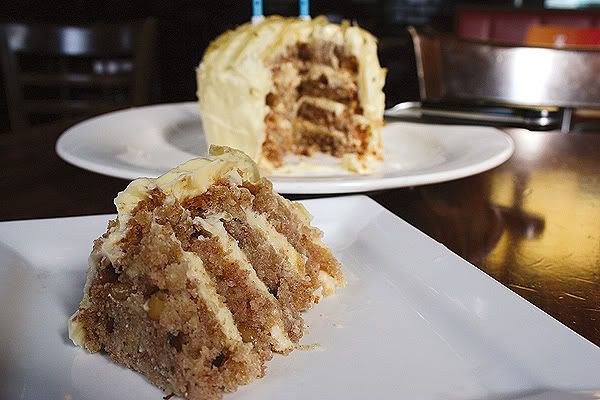 A short post this week, and something of a rambling one at that. You see, the beginning of this month marked two full years for my blog, and I'm felling a bit celebratory. As you might expect, I'm celebrating with food (ok, and a drink or two). I'm having cake, actually. And man do I love a good cake.

I've not much of a sweet tooth, to be honest. However, like every child I know (current or inner), the anticipation of cutting into a birthday cake, of counting the layers (the greater the number, the greater the love), of the first-piece-honors, leaves me a bit giddy. As a kid, each year I easily spent more time agonizing over what type of cake I wanted than I ever did on, say, my possible career paths. It's a mightily important decision.

I first remember coveting the ice cream cakes which were on display at the local ice cream parlor. They were covered in neon-bright, piped frosting and decorated with plastic figurines. I don't really remember if I ever got to eat one, but I can vividly recall half freezing my nose against the freezer display door for what seemed like hours on end.




My obsession evolved into something of a pistachio cake phase. My aunt used to make the most unnaturally green bunt cake, studded with pistachios, and then glaze it with what was essentially sugar-saturated instant pudding. It seemed like a good idea at the time, and was, to be completely honest, delicious. However, it also died my entire digestive system green for weeks, and I try to avoid that sort of thing these days.

I've since moved on to spice cakes of various descriptions. My favorite is a certain type of carrot cake: one that's heavy on cloves and cinnamon with lashings cream cheese frosting. The problem, for me, is that this type of cake is often paired with walnuts, which might as well be land mines, as I am allergic to the tasty little things. Therefore, I often have to pass on the opportunity to eat one of my favorite celebratory foods.




For birthday #2 here at OHC, I thought I'd re-think the carrot cake concept. I wanted to keep all the best aspects while avoiding the chance of asphyxiating myself. I chose parsnips because of their kinship with carrots and because I really love their flavor. Trust me on the pine nuts; their slightly bitter flavor is a lovely counterpoint to the sweet cake. As for the fennel, well, aniseed flavor and parsnip and sweet spices are a match made in polygamy heaven.

Anyway, enough with birthday speeches. On to the cake!

Parsnip and Spice Cake with Candied Fennel and Cream Cheese Frosting

350g flour
2 tsp baking powder
1 tsp baking soda
1 tsp salt
1 tsp ground cinnamon
1 tsp ground nutmeg
500g grated parsnip
3 eggs
100 ml cream
400g sugar
350 ml vegetable oil
150g pine nuts, toasted

Preheat your oven to 190ºC. In a medium bowl mix together the dry ingredients and the spices. In a separate bowl mix the remainder of the ingredients. Fold the dry mixture into the wet, making sure not to over mix.

Divide between two buttered and floured 20cm rounds (or, as I did, into six 10cm springform tins) Bake for 1 hour (or 45 min for the smaller tins), or until a skewer inserted into the middle comes out clean. Remove from tins and cool to room temperature.

Using a bread knife, cut the top and bottom from each of the cakes and then cut each cake in half. Assemble in layers with the cream cheese frosting between each (below) and then cover the cake with an even layer of the remaining frosting. Decorate with candied fennel strips (also below) and a sprinkling of lightly toasted fennel seeds.

Fennel and Cream Cheese Frosting

500g cream cheese, room temperature
300g unsalted butter, room temperature
500g powdered sugar, sifted
2 Tbsp fennel seeds, toasted and ground

Whisk together the cream cheese and butter until fluffy. Fold in the sugar and fennel seed until smooth.

Candied Fennel

100g sugar
100ml water
12 fennel seeds
3 black peppercorns
1 small fennel bulb, cored, cut into thin strips

In a small pot over low heat, bring the sugar and water to a gentle simmer. Add the fennel seeds, black peppercorns, and fennel. Simmer gently until the fennel is slightly translucent and the syrup has reduced by about half. Remove from heat and cool in the syrup.