Last week we talked briefly of stock. Specifically, one of that post's recipes called for reduced brown veal stock. This ingredient (in various forms also called demi-glace or jus) is created by roasting veal bones, simmering them for hours, and then reducing the liquid, with or without the addition of wine or other ingredients, until it is thick and and sticky and rich. This jus is used as a sauce on its own, as well as being used as an ingredient in everything from butters to soufflés to rillettes. It is the secret flavor-bomb chefs use in places you might never expect. Alongside several basic cooking essentials, (salt, onions, flour, vinegar, bay, to name a few), this is one ingredient I count as indispensable in any kitchen.

I am not alone. The French term for stock is "fond de cuisine" or "foundation of the kitchen." Widely recognised in the professional cooking world is this: one of the most important culinary challenges to master is that of making a perfect brown veal stock. It is often the first thing cooking students learn to prepare. The reason? It will, in one guise or another, form the base (i.e. "foundation") of an inordinate number of dishes in your repertoire. Once mastered, a good stock is the liquid in which the meat will be braised, upon which the soup will be based, from which countless sauces are made.




However, most of a stock's qualities are not readily noticeable before it has been simmered until thick, satiny, and sticky. These desirable textural attributes are all due to the presence (and natural concentration) of gelatin. Gelatin is a protein formed through the breakdown of collagen, a connective tissue in meat, when that tissue is heated over 60º C for long periods of time. When making a brown stock we roast bones, vegetables, and sometimes meat to impart flavor, and then simmer these in water for hours to extract both that flavor and gelatin from the bones.

This gelatin is at least as important, if not more so, than the flavor of a stock. Gelatin is made up of long strands (microscopically speaking) which have a tendency to link together, more so as temperature decreases. These linked strands eventually form a sort of loose grid in a liquid. When the concentration of gelatin in a liquid is high enough, it forms something of a mesh that traps the liquid. We call this "setting." Simply put: if you suspend enough gelatin in a liquid and cool it, it will become jelly (jello to those in the US).

If you remove the majority of the water from stock, the gelatin present is concentrated until it can nearly set a liquid, in this case the jus, at near-boiling temperatures. It is this super concentration that makes demi-glace (jus, reduced stock) sticky, thick, rich, or rather, delicious.

Which brings me to the tetra packs and cans of stock which are available in most supermarkets. I'll admit to using these once in a while in place of real stock if I'm in a desperate hurry, and I always regret as they are so pathetically inferior to the real thing. What I can't figure out, and would love to know if anyone out there can tell me, is that while they claim to be real stock (as much as 91% in one case) they don't behave like stock at all. Rather they resemble more some sort of cold tea, infused with flavors and then strained. Reducing seems only to make them unpalatability salty and they seem to contain no gelatin at all. Completely mysterious and nigh on useless.




What of the dry version? While I wouldn't use them, I suppose bouillon cubes, and I lump nearly all stock powders into this category, might be ok to use as long as one is not using them in a dish where you'll be reducing the liquid, say, as you would be when cooking a risotto. The reason for this is simple: They are little more than brightly-wrapped cubes of conveniently flavored salt (more than 50% in most cases) which, terrifyingly, contain little (if any) of the meat they claim to taste like. ("Vegetarian!" was the claim on the back of one bouillon packet I read recently. The flavor? Chicken.) Adding water to a packed square of salt and dried herbs does not make stock, and reducing this suspension down only makes saltier water. Also remember gelatin and how great it is? Stock powder contains none.

And one more question: How do you make a salt cube taste like roast chicken without the use of chicken? With fancy names and magic sprinkles. Read aloud this incantation lifted from the ingredient list of a box of stock powder: disodium 5'-ribonucleotides, propyl gallate, silicon dioxide. That sounds like sorcery to me.

No. I've changed my mind. Bouillon cubes are never ok.

The obvious conclusion is that we should be making our own stock. This is exactly what I suggest you do. It's terribly easy to do and what you'll end up with will be tastier, more useful, unadulterated, and deeply satisfying.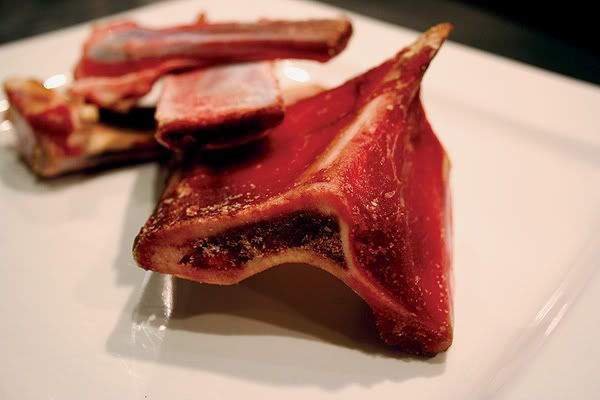 Brown Veal Stock

The first thing you should know is that process takes time, but not a lot of attention. Plan to do this on a day when you have things to do around the house.

The method here is the same for most stocks. When making roast chicken or roast lamb stock, for example, all these rules apply. For white stocks (chicken and fish mostly) follow the method but omit the roasting steps. The quantities are scalable; you'll work out what quantity of bones you can handle at a time. At work it's 40k, 3 times a week.

Bones are available at the butcher or at the local supermarket, if you ask for them. Chances are they will nearly be free, as they are considered a waste product. I pay about $1 a kilo here in OZ.

Note there is no salt mentioned at any point in this recipe. All bones have natural salt, and boiling them for hours and then reducing that liquid extracts and concentrates that salt. Remember, you can always add more salt to a dish, but you can't take salt out.

Also, invest in a large pot.

4 k veal bones (beef bones will suffice)
250 ml red wine
1 carrot, peeled
1 brown onion, peeled
1 stick celery
2 cloves garlic, peeled
1 bay leaf
1 sprig of thyme
4 whole black peppercorns

Heat your oven to 200º C. Arrange the bones in a single layer on roasting trays and roast in the oven, turning occasionally, until they are dark brown, but in no places black. Any burnt bits will add bitter flavor to your stock. Using tongs, transfer the bones to a large pot (or divide between two pots if need be). Carefully pour off any accumulated fat and then splash a bit of the red wine into each hot roasting tray. Using a wooden spoon scrape off any bits of meat and cooked juices that have stuck to the pan. Pour all of this into the pot with the bones.

Roughly chop the vegetables and roast them in a tray until they are colored but not burnt. Don't worry if they are not cooked through; a bit of caramelization is what we are after here. Add these to the roasted bones in the pot as well as the thyme, bay, and peppercorns.

Fill the pot with cold water. Cold is important as it helps any fat to gel and rise to the surface. Skim all of this fat of. Bring the stock just to a simmer. It is of utmost importance that this does not come to a rolling boil, as this tends to produce a cloudy stock with cloudy flavors.

When the stock simmers, turn the heat down to the barest of simmers, skim again, and walk away.

Let the stock simmer thus for at least 4 hours. Occasionally skim an accumulated fat that rises to the surface and top up the water level with cold water.

When the stock has finished simmering, remove it from the heat and allow it to stand for ten minutes to settle. Gently strain the stock through a fine sieve, discarding the solids as you go.

You now have delicious brown veal stock.

Red Wine Veal Jus

The above recipe should give you a couple litres of stock. In order to transform this into jus, we only need to reduce it by simmering. I like to add a bit of red wine, as I enjoy the extra depth of flavor it lends. Feel free to omit it.

Good reduced stock, when cold and set, is very firm and cleaves like obsidian.

2 L brown veal stock
100 ml red wine

Simmer together, skimming any impurities, until reduced to approximately 10% of its original volume. The exact measure will depend on how much gelatin was created when you created your stock.

The end result will be thick and sticky, and, when spooned onto a plate, be very viscous and slightly cohesive; if it runs freely, reduce some more. Be careful, however, not to over-reduce; your stock will take on a deeply salty and slightly bitter flavor.

Strain the jus through a fine sieve and allow to cool, uncovered in the fridge until it is completely set. Remove any fat and impurities – they'll be a lighter color than the rest of the jus, this is the lighter stripe in the photo of the set jus at the top- that rise to the surface upon setting (just spoon or cut them off). At this point I cut the jus into ice cube size portions and freeze until needed.

And what might you need this for? How about a slightly fancy version of a classic American Diner sandwich.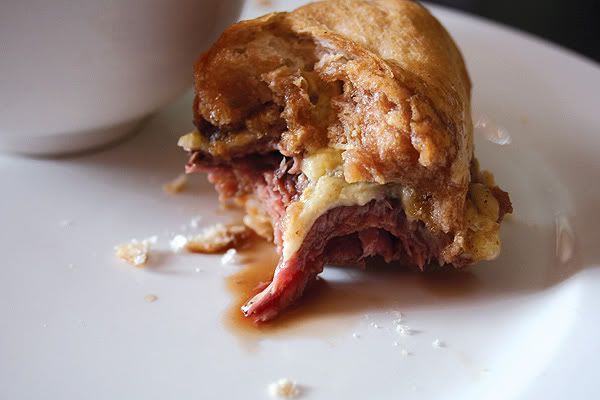 Rare Roast Beef Sandwich Au Jus

I'm not going to go step by step here, you all know how to make a sandwich. Get some bread, some rare roast beef, some swiss cheese, a bit of mustard, maybe some greens, maybe some caramelized onions, and make a sandwich. Warm some of the jus you've made, add about an equal amount of water (to let it down a bit and make a dipping sauce), adjust the seasoning, and dip away.