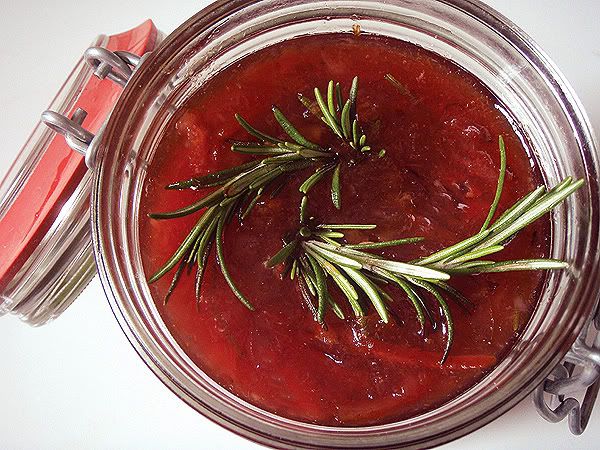 I had this week's post all planned in advance. I was going to tell you how I once had a brilliant, spontaneous idea for an odd but wonderful flavor combination: blood orange and rosemary marmalade. You see, a year or two ago I was making a rather large batch of blood orange marmalade to give away in Christmas baskets and, while bottling the last of a dozen jars, randomly wondered what it might taste like flavored with rosemary. Luckily I had some growing on my balcony and stirred a sprig into one jar of the hot marmalade. As the combination it's not one I've ever heard of, I was not entirely sure it would work out.

It works swimmingly. Rosemary is somehow best friends with the savory-sweetness of blood oranges. Each flavor is distinct and balanced and crisp. While this marmalade is good on wholemeal toast, it is absolutely amazing on a thick slice of buttery brioche. This flavor combination, my flavor combination, was an absolute triumph.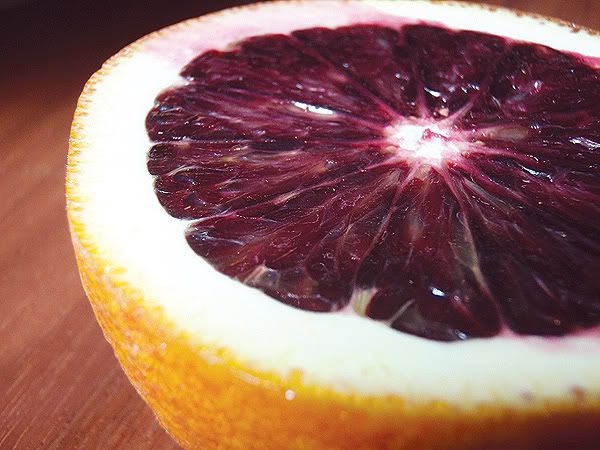 As you can see, I was well prepared to sing my own praises. Then, a moment of curiosity compelled me to google "blood orange and rosemary marmalade." As I'm sure you have guessed, I am not the first person on earth to combine the two. Far from it, actually. In fact, some small jam makers in the States are manufacturing and selling the stuff. Damn, not so brilliant after all.

I take solace in the fact that I did invent blood orange and rosemary marmalade, for myself anyway: as in, I didn't copy the idea from anyone. The episode compels me to believe in the "zeitgeist" concept: concurrent, spontaneous, independent ideas. It happens often in cooking, I find. Restaurants all over Sydney will begin using an ingredient or combining flavors in similar ways that cannot be completely explained away by seasonality or menu copying. For example, a few years ago, every restaurant in the city, it seemed, began serving braised pork cheeks with seared scallops. Some put the cheeks in ravioli, or terrenes, or in crepinette, but that one cut of meat alongside seared Queensland scallops was popping up everywhere. It's as if these ideas are simply in the air.

Still, for the record, not only did somebody steal my good idea, they beat me to it. Rude.

Blood Orange and Rosemary Marmalade

This marmalade is quite bitter, and, in addition to spreading on toast, would make a fine addition to cakes or a glaze for meat.

The lemon and the pips add extra pectin, so that your marmalade will set with less cooking. With all marmalades, the trick to retaining a fresh citrus flavor is a short stove-time.

1k blood oranges, washed
2 lemons, washed
water
sugar
pinch of salt
6 sprigs rosemary

Slice the oranges and lemons into thin rings, removing and reserving any pips. Place the sliced fruit and any juices you can collect into a stainless steel pot. Tie the pips into a muslin bag and add them to the pot. Add just enough water to cover the fruit. Bring to a boil and cook until the skins are soft – 20-30 minutes. Remove from heat and let sit at room temperature, covered, for 12-24 hours.

Weigh the cooked fruit and water and add to it ¾ of it's weight in sugar (if you have one kilo of cooked fruit, add 750 grams of sugar). Add the pinch of salt and bring to a boil, cooking until it reaches setting point – about 104º C. To test, drop a bit of marmalade onto a cold plate and then place it in the fridge for a few moments. Push the drop with your finger; if it is thick and a wrinkly skin forms, it is ready.

Just before pouring the marmalade into sterilized jars, stir in the picked leaves of two sprigs of rosemary. Once the marmalade is in the jars, shove a full sprig of marmalade into each. Seal.

Let's cover brioche making sometime very soon. Say, next week.