When you cook often, as I do, you tend to gather a rather large number of odd ingredients; foodstuff purchased to make a particular dish and then left to languish with the others of their kind in the dark recesses of your refrigerator or pantry. As an exercise in frugality, I have been making an effort to use up some of these orphaned ingredients. Let me give you an idea of what I have to work with.

A partial list of the contents of my fridge: 1 jar of kumquat and lime marmalade, shrimp paste, beer, half a jar of mayo, 4 different kinds of mustard, capers, tandoori paste, kimchi, various vegetables and heads of lettuce, a half dozen fruit preserves, tamarind paste, mustard fruits, a variety of pickles, hoisin sauce, candied ginger, anchovies, thyme and apple jelly, a Christmas pudding, tomato paste, mango chutney, half a kilo of dark couverture chocolate, gherkin relish, mint jelly, maple syrup, duck fat, pork fat, 1 kilo of ghee, miso paste, fish sauce, and a couple of things that have grown furry and can no longer be identified. Call in forensics.

A partial list of the contents of my pantry: soy sauce, chipotle peppers, bulldog sauce, lychees, 3 open bottles of worcestershire sauce, 4 types of hot sauce, 7 varieties of vinegar, pasta (lots of pasta), panko, sambal, dried shitake mushrooms, white beans, dried and glace fruits, red lentils, a (what's the collective noun for spices? Gaggle? Clutch? Clutter?) clutter of spices, several kinds of nuts, evaporated milk, condensed milk, coconut milk, long life milk, powdered milk, popping corn, rice paper, brandied cherries, 5 types of sugar, polenta, organic flour, plain flour, whole meal flour, self-rising flour, rice flour, corn flour, and acorn flour.




Hmmm... acorn flour. This is a leftover from my very delicious acorn mont blanc project. I initially became enamored with the idea of eating acorns when I was quite young. While visiting my Grandparents in Cincinnati, I was fascinated with the little nuts which fell from the tree in their backyard. Oak trees do not grow well in arid Wyoming where I grew up, so I found the acorns, with their shiny shells and little caps, to be quite exotic. I managed to collect a small bucket (competition with the local squirrels was intense) and was playing with them when my Grandfather joined me.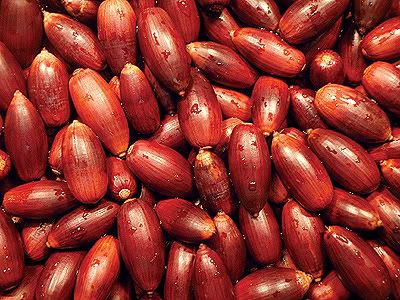 When he was my age, I was told, his father made acorn pancakes on autumn mornings. He remembered fondly the sweet, nutty flavor but, sadly, had no idea how to make the acorns, which are quite bitter, edible. No one else in the family knew either, so I was left to play and, eventually, relinquish the nuts to the squirrels.

Now, thanks to the magic of the world wide intraweb (hints on how to process acorns), a little help from James Beard (basic waffle recipe), and a bit of trial and error, I can finally, 25 years later, try acorn pancakes, or, rather waffles, as my waffle iron is also languishing in the pantry.




Acorn Waffles

1/2c flour
1/2c acorn flour
1/2 tsp baking powder
1/8 tsp salt
1 Tbsp sugar
1 egg, separated
2 Tbsp melted butter
1/3c milk, warm

Preheat your waffle iron. In a small bowl, stir together the dry ingredients. In a mixing bowl, mix the egg yolk, butter, and milk. Stir into this the dry mixture until just wet - over mixing makes chewy waffles. In a separate bowl, whisk the egg white until stiff peaks form, and fold into the rest of the batter. Use immediately. This should serve four people, possibly more as the waffles are surprisingly filling.

Upon eating these dense, nutty waffles, it occurs to me that chestnut flour would work well, with much the same effect. Buying a bag of chestnut flour (good Italian delis will stock small bags of it) sure is easier than processing acorns.