Babe Ruth. Baseball legend. He played in the 10's, 20's, and 30's, mostly for the Yankees. During his career he stepped up to the plate 8,399 times and, famously, hit 714 career home runs, a record that stood until 1974. He is still third on the all-time home run record list. This is not why I admire the Great Bambino. Rather, what I find most impressive is his strikeout record: 1330, nearly twice that of his home runs. It's not chadenfreude; I just like the fact that more often than not, he was swinging. When you always take a shot, you're bound to fail some of the time.

I often have to remind myself of this in the commercial kitchen. We prepare and serve a considerable amount of food in a day. I easily serve more meals to customers in a working week than many people would cook at home in a year. It follows then, that over time, I probably make more mistakes than a home cook does in a lifetime.

Take burns, for example. My arms, from the elbow down, are a map of singed flesh in various stages of healing and scaring. At one point they were so blistered and scabbed that the barista at my local coffee shop, who only seconds earlier had been chatting and joking with me, upon spotting my arms, set my macchiato on the counter and backed away, hands half raised in a don't-touch-me-you-junkie-leper gesture. Chalk up my propensity to pan-sear myself to eight stove-top burners, a 300º C oven, hundreds of smoking-hot pans daily, and the law of averages.

A bit of damage to my hands and forearms hardly counts as failure, I'm aware. Therefore, I'm going to let you in on a secret: chefs ruin a lot of food. A LOT. I mean metric shitloads. We've often got several things on the go at once and it's pretty easy to forget about the tray of fennel roasting in the oven. Combine this with higher-than-home-cooking temperatures and a general lack of sleep and it doesn't take long to tally up a bit of destruction. While all ruined food is accidental (chefs hate wasting food), sometimes we ruin things through out-right error (as opposed to mistakes), whether it is lack of skill, misstep, or attempting a new technique.

It's when I have a cluster of these accidents that I feel most like a failure. That's when I think of Babe. I could, guaranteed, make no more cooking mistakes if I decided to stop cooking. Since, obviously, I'm not going to do that, I'll keep plodding along through the burning flesh and burning snapper, knowing that as long as I do so, the next great achievement is as inevitable as the next failure.

So, hey, get out there and swing.




I'll give you a failure-cum-success and an outright success: my two attempts at making apple cider (hard apple cider for those of you in the states).

My first attempt at cider began with the first apples of autumn here in OZ. I purchased about 10 kilos of them and ran them through our industrial-strength juicer. I filtered the juice, added a packet of ale yeast, and off it fermented. After a week or so I bottled it and put it away for a few weeks.

Before starting I'd read that sometimes the wild yeast on the skins of apples can cause cider to go sour. Because of this, it is recommended that you either skin the apples or add sodium metabisulphite to the juice to kill off any wild yeast present. I did neither. The result? Sour cider.

I kept the bottles of undrinkable cider stored away for a month or two not knowing what to do with them. That is until I found this at the bottom of a vinegar bottle: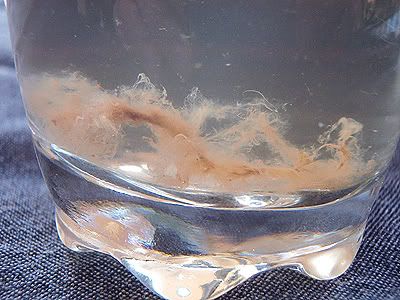 A vinegar mother. This ghostly little blob is not some foetal alien life form nor is it a supernova remnant but a colony of acetic acid bacteria that turns alcohol into acetic acid – vinegar. I filled a large jar with some of the sour cider, plopped in the mother, covered it with with a cloth (it needs oxygen) and left it in a dark, warm place (hello water heater closet!) for a couple of weeks. The mother sinks to the bottom when it has stopped working, but you can use the vinegar at whatever strength you want. Just taste it from time to time to see how it is going.




To pasteurize and strengthen the finished vinegar, I simmered it until it was reduced by about half, and then sealed it in jars. Yum.

In the meantime, I tried again to make cider. This time, hoping to avoid the wild yeast issue altogether, I purchased about 12 litres of preservative-free apple juice. Mix in ale yeast and ferment away. After a slow ferment (2 weeks) I bottled. Another few weeks until the taste test...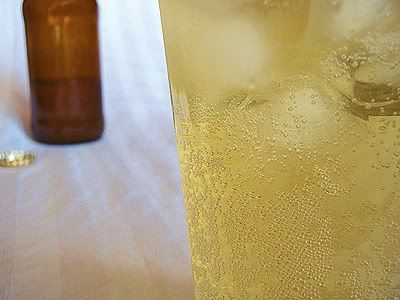 This stuff is great. Sprightly, very dry, with a hint of sweetness, and great apple aroma. My only complaint is that I can taste the yeast. Perhaps this will drop off with a bit of age, but I think I will use wine yeast next time instead.

Let's drink to f-ups!