I've mentioned a couple of times in this blog that I know quite a few recipes by heart. They are usually things that I cook often enough to know exactly what ingredients, in what quantities, and precisely when they are added, like a chemical formula. Others I remember in the same way in which I recall poetry – the first line recalled prompts the next, so that "Twas brillig," and "200g flour" spur my memory in exactly the same manner.

I have a terrific memory for recalling dates and details, menus and mistakes, people and pastries. That said, I have huge blind spots. Blank memory bits where I am completely incapable of the vaguest recall. It's as if my brain, at random, forms no connections with certain facts, events, people, histories, and they go tumbling into some inner-cranial singularity, destine to vanish forever in a blip of cosmic rays.

Someone will say "remember so-and-so?" Uh... "She worked with you at blah-blah." Ummm... "Brunette. Short. Glasses. Came to drinks with all of us at the such-and-such." Nope.

As disturbing as this is, the professional equivalent is even more unnerving. Now and again I completely lose a recipe. My brain fails to hold onto even the barest of information about a preparation method or a dish. Try to reproduce the meal, and I come up with nothing but fuzzy mental outlines of the end product and Columbo-like guesswork as to how I got there.

Worse still, there are a few bits of culinary wisdom upon which I never seem to be able to get a firm grip, no matter how often I encounter them. I find myself looking up or practicing these particular recipes and methods again and again. As soon as I've completed the task, I forget how it's done. The whole process leaves me feeling a bit like the damaged guy in "Memento."

For example, every time I pickle gherkins (little cucumbers, or just "pickles" in the States) I promptly forget how I've done it. I suppose it has something to do with the long lead time; six weeks from cooking until they are ready to eat. The great interval does not encourage recollection. Besides, if, a month and a half later, the end result tanks, who wants to remember the recipe anyway?

Still, this post is my attempt at recording at least one version of gherkins that turned out well. I scribbled down the ingredients as I threw it together, and now, nearly three months later (forgot they were in the fridge), upon tasting I've discovered they are pretty bloody good.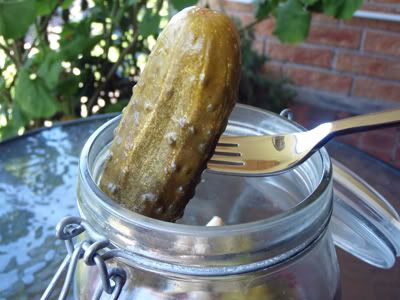 Try not to ask me too many questions about exact details, as I'll have to make something up. No one wants that.

500 g pickling gherkins
500 ml water
175 ml vinegar (white, cider, or white wine)
2 tbsp sea salt flakes
1tbsp pink peppercorns
1tsp mustard seeds
1sm clove garlic, peeled
2 spring onions, most of the green tops removed

Wash the gherkins gently and then soak them in cold water for at least three hours. Drain.

Combine the 500 ml water with the vinegar and salt. Boil 3 min.

Meanwhile, sterilize a pickling jar large enough to hold all the gherkins. Pack them in tightly. Stuff in the garlic, spring onions, peppercorns, and mustard seeds. Pour the hot vinegar solution over to cover and seal. Store in the fridge* at least six weeks.

*Sure, a pickle is a preserve, but we're not heat-treating these. That means we get a crispy pickle, but that we can't be sure nasties wont grow. Refrigeration helps reassure us all. The warm loving embrace of the fridge. If that makes any sense.