Frugality played a big part in the dinners of my childhood. Especially during the years in which I was living with my grandparents. Not that I noticed at the time, nor do I mind it in hindsight. We ate well: risottos and pastas, stews and soups, casseroles and roasts. I don't remember a day when the house wasn't filled with the sounds of my grandmother happily pottering in the kitchen. Only upon reminiscing did I realize that polenta with cheese was poverty food, that elk and deer mince, from family hunters, were a cheap alternative to store-bought protein; as far as I was concerned my meals just tasted good.

I was perfectly happy eating this way, but I did look forward to the occasional treat. We'd, from time to time, order a blueberry pie from the local pastry shop. I'd stare sidelong at the white, window-toped box throughout all of dinner, knowing Grandpa would cut me an extra large slice. Other treats were not so obviously special to me. We'd have a steak once in a great while, and this must have been something my grandparents looked forward to especially, but it made no great impression on me.

There was one meal in particular that seemed to me to be very special. Looking back I can see now that it was neither expensive nor extravagant, but we all greeted it with great anticipation – so much so that we dubbed it a "night," as if it were a public holiday or a local event. "Tonight," my Grandpa would say with obvious joy, "is BLT night."

My grandma's BLT consisted of nothing but the usual suspects: crisp bacon, iceberg lettuce, sliced tomato, a bit of mayonnaise, and wholemeal toast. It is simply a magical combination of flavors and textures.

I was thinking about "BLT nights" the other day whilst inhaling a quick bacon sandwich before the start of lunch service. It was tasty, there's no doubting, but it was no event. So, after some thought, I've decided to create the ultimate BLT, in hopes of restoring some of that magic.

I'll be spreading this recipe out over a couple of posts, as there's a bit of work (and a lot of typing) involved.

Let's go make a sandwich! In just under two weeks!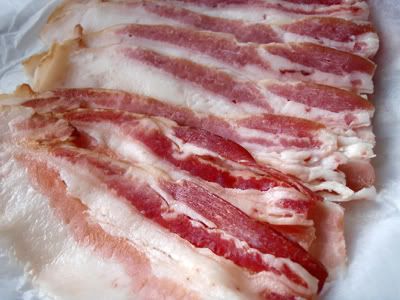 Step One: Make Bacon

That's right kids, we're makin' bacon! Were gonna smoke our own pork (and a whole host of other of other vaguely sexual euphemisms). Why, I hear you ask, why go to the trouble when you can buy bacon at any grocery store, truck stop, or pawn shop? Not only is the process incredibly simple and extremely satisfying, I promise that you'll make the best bacon you've ever tasted.

By way of a note: I usually don't mention sources for my information; this is mostly because I can't always remember where I learned something. Other times I read several recipes for one dish, pick methods and ingredients I like from each, and make up my own recipe as I go. Here, however, I have borrowed heavily from the book Charcuterie by Michael Ruhlman and Brian Polcyn. This is, hands down, the best book you'll ever own on the subject of curing and smoking meats. Go buy it. My recipe for Maple-Cured, Hickory Smoked Bacon is a variation on the one in this book.

Also, a disclaimer: Curing and smoking meats can be dangerous. If not done properly you can make someone ill. In addition, pink salt (also called saltpetre or sodium nitrate) is dangerous if eaten in great quantities. In other words: if you stuff this up, you've been warned.

2 kilo piece of pork belly, bone out, skin on
60 g sea salt flakes
12 g pink salt (sold readily in the States, a bit harder to find in Australia)
60 g brown sugar
60 ml maple syrup
hickory chips

Combine the salts, sugar, and syrup in a small bowl. Stir to form a rough paste. Find a container (preferably metal or glass) that the pork belly just fits into. Rub the salt paste all over the belly, skin side as well. Cover and refrigerate.

Over the next couple days the salt will draw moisture out of the pork which will create a brine that the belly needs to soak in. Every two days turn the pork in its brine.

After a week the pork should feel firm. Remove it from the brine (which you can now discard), rinse the meat, and pat it dry. Place it on a rack and leave uncovered in the fridge overnight so that it can dry thoroughly. Soak the hickory chips in water overnight.

Prepare your bbq for smoking (I use the oven at work, as we have commercial-strength extraction fans). Heat one side of your bbq on low heat and start some damp hickory chips smoking. Place the belly, skin side down, on the opposite side of the bbq and close the lid. Keep topping up the smoking chips and monitoring the internal temperature of the pork belly using a meat thermometer. The bacon is ready when the interior of the meat reaches 65º C. It should take about 3 hours.

Remove from the bbq and allow to cool. I like to refrigerate mine wrapped only in baking paper, as this allows it to breath a bit. Using a sharp knife, cut the skin off the cold bacon without removing much fat. Keep the skin to toss into your next pot of pea and ham soup.

Now, make friends with someone at the local deli. It's always good to have a friend at the local deli. Take your bacon to the deli and ask your friend to slice it paper-thin for you. Be sure to let them have a half dozen rashers or so. Bacon tax.

Store the bacon in wax paper. In theory, it will last weeks. I challenge you to not eat it all in half that time.

Tune in next time for Part II...