[Part III in the Homeric epic 'How to Make a Sandwich in Less Than Two Weeks']

About five years ago Australian scientist Ric Pashley discovered that oil and water do mix. That's right, DO mix. I know it sounds like you should be expecting a punchline, but it is, bizarrely, true. We've all seen how oil floats on water and we've experienced that when mixed together the two will eventually separate. Intuition and most scientists would tell you that, without stabilizers, you cannot suspend oil in solution. Turns out, however, that if you remove all the dissolved gas from a liquid, oil will spontaneously dissolve into it, and remain dissolved even when gas is reintroduced into the mixture, no stabilizers required. Who knew?

Why is this relevant to a food blog? Chef's spend a good deal of time trying to make oil and liquids mix. In the kitchen these mixtures are called emulsions. In general, egg yolks are used to overcome the tendency of water and oil to keep to themselves, but the method is far from failsafe. I know chefs, good chefs, who are terrified of the word emulsion. It brings instantly to mind the notoriously unstable, so-called, hot emulsions like bearnaise, hollandaise, and beurre blanc. These sauces only hold together in a very limited temperature range – too hot and they curdle, too cool and they solidify, destine to separate, or "split," upon rewarming.

Cold emulsions are hardly any better. These include mayonnaise, aioli, and any number of dressings. While not as temperamental as hot emulsions, they are just as easy to botch. Add the merest touch too much oil, or add the correct amount of oil but at too great a speed and... splitsville. And let me tell you, once your emulsion visits splitsville, it's not coming back. Think of it like a retirement home for broken sauces and dressings. I can't count the times I've split an emulsion. Usually it happens at some desperate moment, when you really need the tartare sauce to be finished before service starts, when the caesar salad is already on order, just as you are plating the steak and reach for the sauce.

Imagine, then, a magical world where emulsions don't split, can't split. Where, simply through the virtue of your ingredients, your creamy combination of oil and vinegar will come together to form the sauce you once had to baby along delicately in a warm water bath. Sure, some of the craft involved in cooking – learning to work with finicky ingredients – will be lost. However, you tell me about 'craft' when your 5 liters of beurre blanc splits just at the 100-head function group walks in the door.

No doubt chefs like Blumenthal and Adrià will utilize the method first. I suppose that a stabilizer-free emulsion has applications in the manufactured food industry as well (you'll never have to shake a bottle of vinaigrette again). Some day the practice will reach everyday commercial kitchens. Until then I'll continue doing it the hard way, keeping my fingers crossed.

You'll have to do it the hard way as well. It's time to make mayonnaise.

Lemon Mayonnaise

1 egg yolk
250 ml veg oil (grape seed or safflower are best)
1 tbsp white wine vinegar
1 lemon
1 tsp dijon mustard

In a medium bowl whisk together the yolk, vinegar, juice from half the lemon, dijon, a pinch of salt, and a grind of pepper. While whisking, slowly, and I mean the barest trickle, pour the oil into the bowl, stopping the oil any time it looks as if it isn't being worked in to the emulsion.

As you pour the oil in, the mixture should grow thicker. If at any time the mayo suddenly becomes thin and oily, it's split and there is no saving it. Start again, and this time pour more slowly.

When all the oil is incorporated, taste and adjust the salt and lemon juice. The mayo should be quite tangy, glossy-smooth, with a hint of mustard, and nigh on perfect. After all, it is for the best sandwich in the whole bloody world.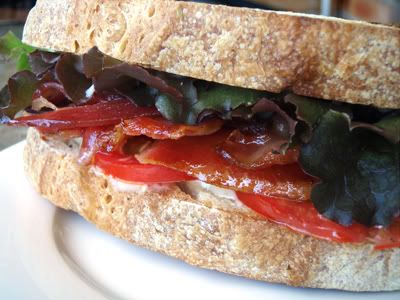 The Best Sandwich In The Whole Bloody World

6 rashers home-cured bacon
2 slices sourdough thyme bread
1 perfectly ripe tomato, thinly sliced
3 leaves red oak lettuce (or other crisp, slightly bitter lettuce)
Lemon Mayonnaise (above)

Ok. You've (read "I've") worked really damn hard to pull this sambo together, don't screw it up now.

Start by cooking the bacon. Lightly oil a cold, medium-sized fry pan. Place the bacon in, overlapping as little as possible, and set the pan over low heat. Cook the bacon very slowly; the aim is to melt out some of the fat, crisp up the rashers, and not burn the suckers. The relatively high sugar content in the bacon will allow it to burn faster than most store-bought bacon.

When the bacon is nearly ready, toast the bread. Drain the crisp bacon but do not let it cool too much.

Assemble the sandwich: one slice of toasted sourdough, liberal application of lemon mayonnaise, slices of tomato, sprinkle of sea salt, grind of pepper, warm and crisp bacon, cool and crisp lettuce, extra dollop of mayo, top piece of bread.

Angels will start singing now if you've done it correctly.

It takes nearly two weeks to make this sandwich and less than three minuets to eat it.

It is undoubtedly worth it.

A few notes:

1. Take the time to find a really good tomato. Try stealing one from your neighbor's garden just as it ripens, or failing that, get a vine ripened one at a market, preferably one that has never seen the inside of a fridge; tomatoes hate the cold.

2. Notice you are only using 6 slices of bacon but you have made a kilo or two. Keep the rest hidden. Don't share it with anyone. In fact, if someone asks you where you got this fantastic bacon with which you made your sandwich, the sandwich you won't shut up about, tell them you found it, and sadly, it is all gone. Then, in the deepest hours of the night, creep to your kitchen and eat all the porky goodness by yourself! Ha! Idiots! Mine! All mine!

3. I said "a few points" but I only really had two. Now it's three, but only because originally there were two and I felt I should point that out. My head hurts.