I've memorized a ridiculous number of recipes. Some I know through repetitive usage: the recipes for pasta or gnocchi, for example. These flour-to-egg-to-weight-of-whatever ratios are fixed in chemistry and in my brain and in culinary stone as immutable fact. Constant repetition evolves into intimate understanding. Others I know because it is handy to know them, convenient not to have to look them up: brandade, anglaise, beurre manié, to name a few. Knowing how to whip these up without referencing a book is quite the time saver, and it makes you look good in the kitchen. Real good.

The following recipe falls into both categories. I've made, without exaggeration, hundreds of kilos of tomato fondue. Not to be confused with a 70's dinner party, tomato fondue is a thick, rich paste made from slowly concentrating tomatoes, cooking until the vast majority of their moisture is gone, and their flavor is intense. The fact that it is superbly delicious on its own, and that it can be used in such a wide range of dishes to add flavor or richness or depth or an anchor, makes this recipe one every cook should know by heart.

As a side note, the spoon pictured below is my single favorite cooking utensil. I don't mean just any spoon, that one, particular spoon. In the French kitchen in which I worked (and have mentioned before) it was unacceptable not to have a tasting spoon on your person at all times. Should the head chef or sous chef ask you what a sauce or purée you were working on tasted like, if it was reduced enough, seasoned properly, and you had to look around for a spoon, may god help you. The tarnished piece of silver pictured rested in the back pocket of my chef's pants every day for at least nine months. It is the perfect spoon. Heavy, wide grip at one end, deeply concave at the other, this beaten beauty makes perfect quenelles and plates red wine jus like a miniature gravy boat. When I left the job, the spoon came with me. Forgive me Matt.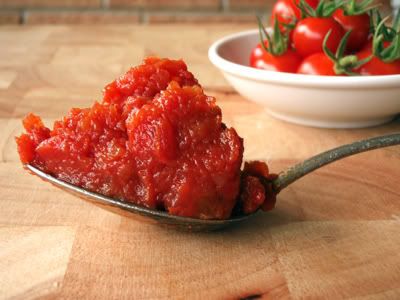 Tomato Fondue

very ripe tomatoes
tomato paste
brown onion
garlic
thyme
olive oil

Cut the top of the tomatoes out where they were attached to the vine and slice a tiny 'x' on the bottom of each one. Plunge them into a boiling pot of water for 30 or so seconds to loosen the skins (10 seconds is enough to just loosen the skins, but will leave you with a bit of a job peeling; we're going to cook these tomatoes for ages, so a bit of over blanching won't make any difference to the final product, but will save you time peeling). Remove from boiling water and shock in an ice bath to cool. Remove the skins, cut in half along the horizontal and roughly squeeze out the seeds. Don't worry about removing every single one; the seeds are bitter and, en masse, will ruin the fondue, but a couple of stragglers wont harm anything. Roughly chop the remaining flesh.

Weigh the chopped tomatoes. For every 1 kilo of tomatoes you will need 1 tablespoon of tomato paste, 250 grams of finely diced brown onion, 1 clove of garlic, 1 sprig of thyme, and 2 tablespoons of olive oil.

In a heavy-bottomed, stainless steel (aluminum is a reactive no-no for tomatoes) pot on medium heat sweat the onion in the olive oil with a pinch of salt until it is soft and translucent but not colored. Add the tomato paste and cook until it splits, that is until the oil and tomato separate. Add the thyme and the garlic clove, whole but slightly cracked, and then add the tomatoes. Cook over low heat for a couple of hours, stirring frequently to prevent it catching, until the fondue is very thick and smells of deeply roasted tomatoes. Remove the garlic and thyme and season the fondue.

(Right. I should tell you now that I can't remember ever cooking fondue without it catching on the bottom of the pan and burning a bit. If [read "when"] this happens to you, don't panic. Transfer the fondue to a clean pan without scraping any of the burnt bits. Remember, any black bits will be extremely bitter and can ruin the fondue.)

Fondue is great to have around. Add a tablespoon to stocks before you reduce them to lend extra body to your demi-glace. Spread it on bread with avocado and cheese for a snack. Use it as a base for roasted snapper with a saffron beurre blanc. Toss it with some hot pasta, olives, and a bit of olive oil for a surprisingly flavorful pasta. I try to always have tomato fondue in the fridge.

One more thing: don't bother using those half-green rocks that pass as tomatoes from the local supermarket. We order boxes of overripe tomatoes from our supplier for tomato fondue; they are likely to be soft and bruised but they have the best flavor and a deep red color, and since we plan to cook the living bejesus out of them, we don't care how they look. Ask your grocer for the same, or look for tomatoes on the clearance shelf at the fruit market, I guarantee they'll be perfectly ripe.