As a general rule, chefs don't eat breakfast. Sure there are exceptions. Breakfast chefs, for example. The exception there, obviously, is that egg-flipping doesn't make you a chef, you brainless hashbrown monkey. Eat what you want. Another exception: I've been known to consume ham and cheese croissants in the manner one would, say, breathe. But that's ham, a well documented 24-hour food that clearly transcends breakfast. No, our collective chefy stomachs have been starved of a.m. nutrients and pummeled with late night crap so consistently we've been left virtually incapable of downing anything aside from coffee before 1 p.m. It's physics.

It will surprise you then, I imagine, that sometimes I, if I move quickly enough once I am out of bed, manage to trick my stomach into eating a bowl of what is a down-right healthy and delicious home-made cereal.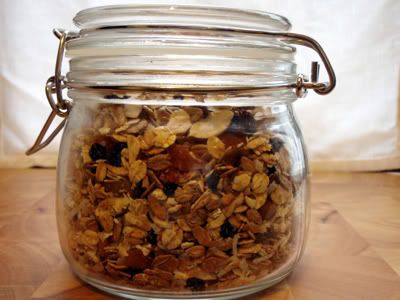 5 Grain Maple-Toasted Cinnamon and Hazelnut Muesli

500 g rolled oats
500 g rolled wheat
500 g rolled barley
500 g rolled rye
500 g rolled triticale
250 ml (1 cup) maple syrup
100 ml vegetable oil
1 heaped tablespoon ground cinnamon
250 g currants
250 g dried apricot, diced
100 g coconut flakes, lightly toasted
100 g almonds, peeled, roasted and roughly crushed
100 g hazelnuts, peeled, roasted, and roughly crushed

Mix all grains. In a separate bowl, whisk together oil, maple syrup, and cinnamon and then pour over grains. Toss to coat. Toast coated grains in shallow trays in a 160º C (320º F) oven for about an hour, stirring every 15 minuets. Grains should taste slightly crunchy and be dry to the touch. Cool. Mix with remaining ingredients.

Serve with milk or on yogurt with honey and fruit.

Seriously. 5 grain, dairy free, no refined sugar, triticale for the love of Christ. I'll be a macrobiotic breakfast chef posting on a militant vegan anti-shower website in no time. I give myself a week.